Captain Burwash the Pirate
KS1, KS2 and KS3 for ALL pirate themed topics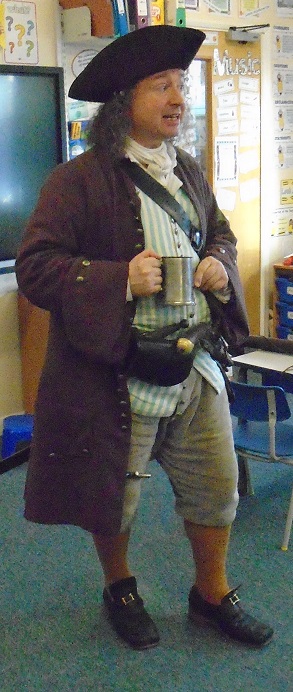 This early 18th century pirate tells stories about pirates and buccaneers from the famous Henry Morgan to the infamous Blackbeard, from 'Calico' Jack Rackham to the cunning Jean Doublet, and many more. Children love stories about pirates. This character can work with one, two, three or more classes, even the whole school. He tell tales, sometimes getting the children to act them out, answers questions about ships and life as a pirate, and demonstrates his artifacts, clothes and weapons, carefully supervising volunteers to handle various items. With just one or two classes, I can deliver an even more involving day; and if working with one class, Captain Burwash can also show the children all sorts of navigational instruments. The captain asks for work to be done too, including both art and writing.
Click here for more information on the Pirate Workshop
KS3 pupils will discover a more historical version of pirates compared to those portrayed in books and films, how the reality was often brutal and very cruel, yet no less full of adventure. This character vividly elucidates upon several social and economic aspects of the early British Empire, especially the 'Golden Age' of piracy which troubled the American colonies in the early 18th century. It can be an exciting component of studying 'society, economy and culture across the period' (1509-1745)
---
Sir William Petty and the Great Fire of London
KS1 history
Sir William Petty is a rather famous gentleman who, being a founder member of the Royal Society, knows the king and many other famous folk (including Samuel Pepys). Recently his London properties in Tokenhouse Yard were burned down during the Great Fire. Petty tells the full and exciting story of the terrible calamity during which the children join in several activities, such as working out how to form a bucket chain and becoming houses in an experiment to see how easily the fire spread. Sir William can ask the children to help him draw a map of the new London, each child having their own little parish to re-draw which then all join together to form one large map that everyone has contributed to.
Click here for more information on the Great Fire of London Workshop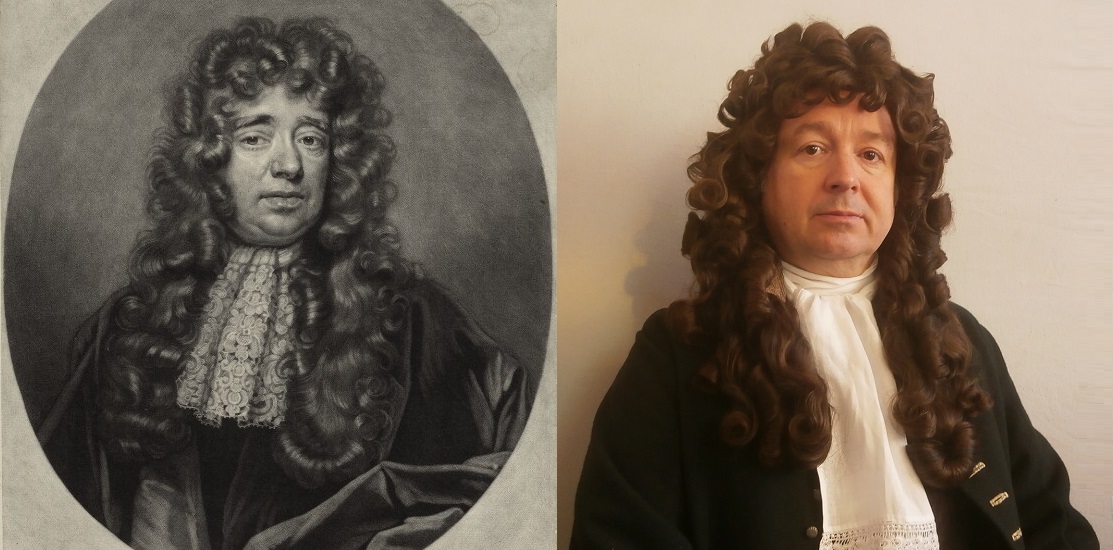 ---
John Nevison the Highwayman
KS2 literacy & KS3 history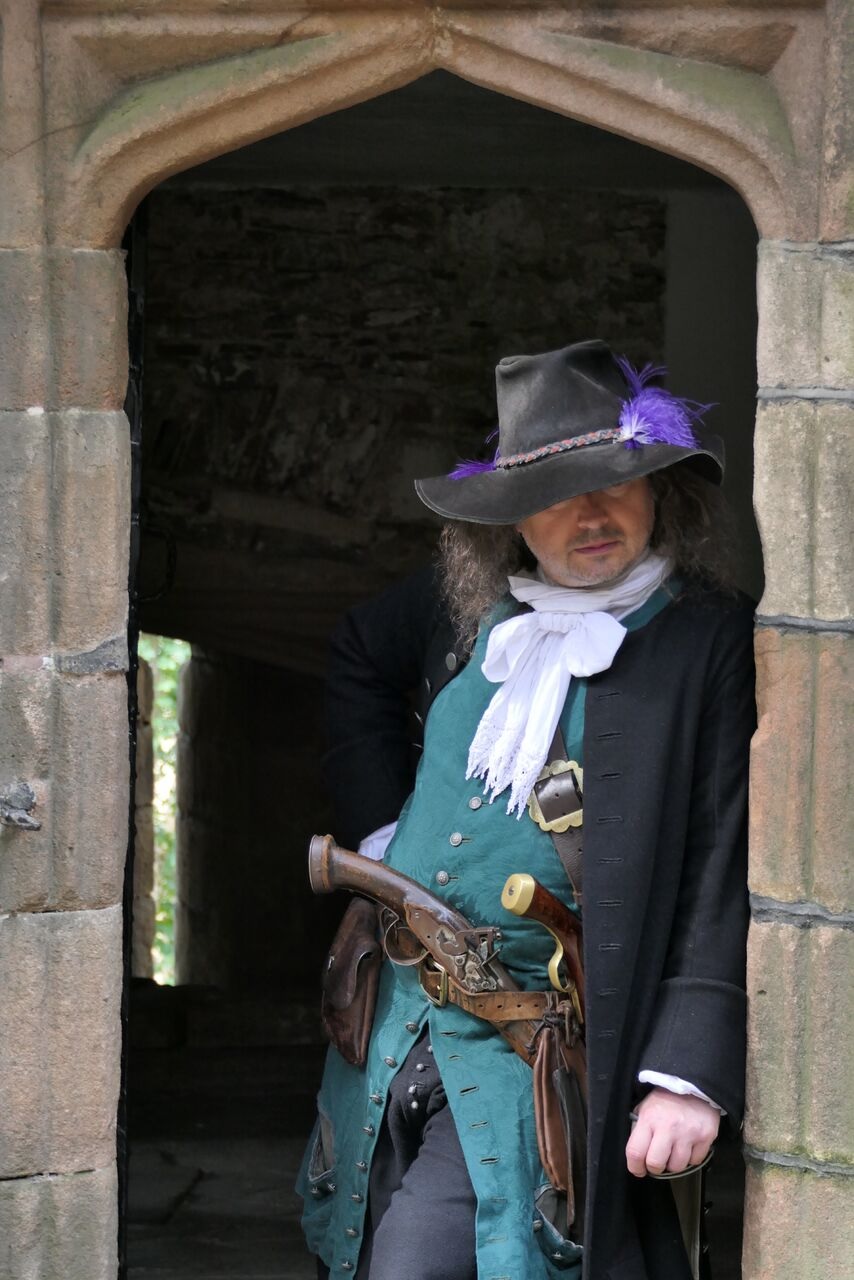 For Key Stage 2: 'Swift Nicks' Nevison bursts into the classroom or hall, on the run from a hue and cry, looking for his good friend (the teacher) and hoping for a place to hide for the day. This is a very exciting start and immediately draws the children in. After telling tall-tales of his exploits, he asks the children to correct documents written about him, based upon what he himself has told them. The work is differentiated to suit all levels of ability: a ballad, a news-sheet full of adventures, a London Gazette Wanted Notice, and a false description to mislead the local petty constables and watchmen. Finally, he tells the story of his most famous exploit. Children become very caught up in Nevison's world.
This visit is focused on Years' 5 or 6 Literacy (but works well with Year 3 or 4 too). Several schools regularly use this character to add detailed background and an exciting experience to the children's study of "The Highwayman" poem. Other schools use this as part of topics such as Journalistic Writing, Persuasive Writing, or Myths and Legends. It can be a cross-curricular literacy – history session if combined with a study of crime and punishment.
Click here for more information on the Highwayman Workshop
For Key Stage 3: Nevison can be an involving and exciting component of studying 'society, economy and culture across the period' (1509-1745), offering an interpreted insight into the criminal side of late seventeenth century society, both the reality and the stories of the time, as well the laws and punishments.
Contact Me...
A day with a Highwayman!
---
Laurence Eliot, One of Drake's Sailors. Explorer and Privateer
KS1 & KS2 history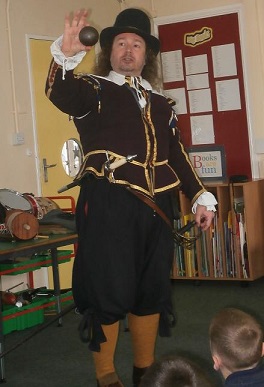 For Key Stage 3: Master Laurence tells of Sir Francis Drake's exciting and eventful three year journey around the world – the first Englishmen ever to do do so. The story is full of curious encounters, terrors and hardships, but has an ending that would make Queen Elizabeth very happy indeed. The children get to see all sorts of artifacts, with supervised handling too. Can they guess by smelling what spices were brought back? Can they tie sailors' knots? Can one of them wield a musket? Can they fathom how to use the navigational instruments?

Click here for more information on Drake's Circumnavigation
This day works well with one or two classes, and can be modified for more.
For Key Stage 3: Master Eliot can describe Drake's famous circumnavigation bring a fascinating aspect of the conflict with catholic Spain and the piratical nature of seafaring at the time. (1509-1745)
Contact Me...
Around the World!
---
Sir William Petty and the Great Plague of 1665
KS1 history
Sir William Petty tells the terrifying story of the Great Plague of 1665, as well as what he and other natural philosophers and doctors think caused it. He explores how people attempted to prevent it, protect themselves from it and cure the sick.
Activities along the way include exploring what can happen when families are 'shut up' in their houses, examining various 'wards' and medicines, ringing a plague bell, dressing up as plague doctor, and studying the Bills of Mortality filled with strange (and horrible) causes of death! Sir William can also ask the children to create instructive posters to instruct Londoners concerning what they can do to avoid the plague.
Click here for more information on the Great Plague Workshop
---
Guy Fawkes
KS1, KS2 and KS3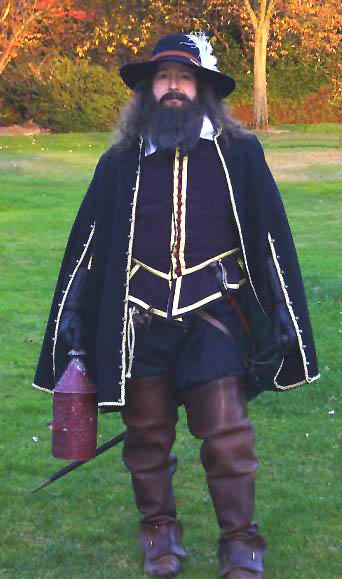 For obvious reasons, this is my special character for the middle of Autumn term, usually following the half term but occasionally with dates in the run up to half term. Guy Fawkes most often visits Key Stage 1 children.
We start with an assembly (often with the Key Stage 2 classes also present, as the assembly works well as a stand-alone special event) in which I introduce myself and then, with the help of the children to act out the roles, I describe the Gunpowder Plot in detail. The day then continues with sessions for individual Key Stage 1 classes involving demonstration, question and answer, as well as several activities – writing in a secret cipher and role-playing a catholic family trying to hide a priest. These activities help the children to understand aspects of the plight of Roman Catholics in the period.
Click here for more information on the Guy Fawkes Workshop
Fawkes is also very suitable for KS3 visits, especially the curriculum example of "conflict with Catholics" (1509-1745). It vividly explores what drove Fawkes to take part in such a horrendous plot, describing the dashed hopes and suffering of English Catholics under Elizabeth and James, and all the difficulties endured by the Jesuit and Seminarian priests. He can talk about his fellow plotters and what exactly they intend to do. Considering the horrendous nature of the Plot, I am happy to come out of role near the end of a session to talk as a historian to the pupils about the character, to considering and clarify his beliefs and attitudes, but often the teachers do that s part of their lessons.
Contact Me...
A day with Guy Fawkes!
---
Obadiah the Musketeer
KS1 & KS2 local history, KS3 1509 – 1745 & local history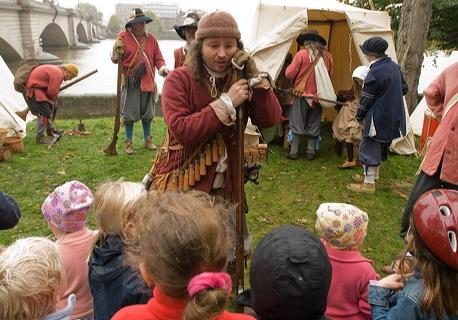 As well as telling the children about the British Civil War in their locality, Obadiah tells of his own experiences, and can engage in a wide-ranging Q&A discussion of seventeenth century life in general. Topics range from mundane, day to day aspects like diet and travel to religious beliefs and the government, as well as his ideas concerning the causes of the war and famous people. He can demonstrate the use of the musket (not actual firing!), describe his possessions and various other weapons he has brought with him, teach the children marching drill in the yard, and give an account of various battles, perhaps employing children to represent the units involved. See the Castle Governor and Civil War Battles for other English Civil War related sessions.
(Picture used by permission of John Beardsworth, taken from his page www.traynedbandes.org.uk/putney2007/)
Click here for more information on Civil War Workshops
For Key Stage 3: As a politicised New Model Army soldier, Obadiah can also converse with pupils about the radical ideas addressed at the time (such as during the Putney debates). He can discuss the war, tactics, strategies and personalities in more depth, as well as why he and others have gone to war, thus suiting the curriculum example of 'causes and events of the civil wars throughout Britain'.
Contact Me...
Life in the civil war!
---
Civil War Castle Governor
KS1 local history (places and events), KS2 local history (a site dating from beyond 1066) and KS3 1509 – 1745 & local history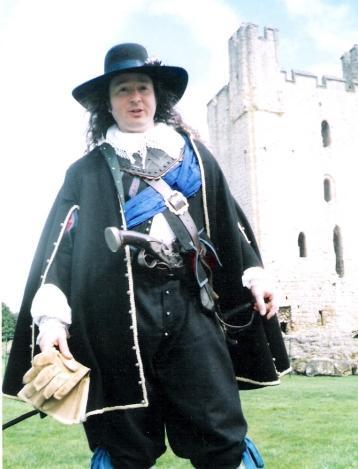 This character can be one of several possible men – most often the governor of Sandal Castle, Pontefract Castle, Skipton Castle or Helmsley Castle. Like Obadiah the musketeer (see above) he talks about the British Civil Wars, but with his own slant on experiences, concentrating on siege warfare and local events. He's a great choice if your school is near one of these Yorkshire castles, or perhaps another site involved in the Civil War.
Click here for more information on the Civil War Workshops
This gentleman can talk to KS3 pupils about the radical religious and political ideas of the Civil wars, discuss the causes and course of the war in depth – the battles of the mind as well as on the field.
---
English Civil War Battles
KS2 local history
This is not a character session, but an involving and fun local history lesson using a large map and painted toy soldiers to teach about the 1643 English Civil War battles of Wakefield or Heptonstall. In the first, Sir Thomas Fairfax and 1500 Parliamentarian soldiers faced George Lord Goring and 3000 Royalists; in the second a small force of Roundheads took on Major General Sir Francis Mackworth's force of Cavaliers. The children begin by learning about the local terrain, the soldiers involved and their weapons. Then they divide into groups to write their battle plans, after which we fight the battle to see what would have happened had your children been in charge! Finally, now that the children have an understanding of what everything represents, we end the session by seeing what actually happened in 1643. The lesson takes half a day, and so can be done with two classes in one day, or can form the afternoon of a day with one class as one of my civil war characters.
Click here for more information on the Civil War Workshops
Contact Me...
A battle in the classroom!
---
Captain Eynos, Elizabethan Sea Rover
KS2 literacy / history
Eynos is a late Elizabethan ship's captain who traveled with Sir Walter Ralegh on his quest for the fabled city of El Dorado. He takes the children on an imagined, role-played journey through the forests of Guiana to create their own exciting and eventful story, which they can write down later. Listening, speaking, co-operating and decision-making skills are all exercised, and a different tale emerges with each class. Eynos can also discuss seafaring in particular or the Elizabethan period in general. If your children are studying seafaring and exploration then this visit is perfect, but as it does not require them to have previous knowledge, it works well as a stand-alone Literacy exercise – a creatively fun adventure in an imagined historical world. Afterwards, the children enjoy retelling their story, especially what happened to them as individuals.
Click here for more information on the Sea Rover Workshop
If there is time, for example if I work with one class for the whole day, Captain Eynos can demonstrate a collection of strange navigational instruments, describe life aboard ship (or on land), and tell tales of famous events like the defeat of the Armada, or of famous seafarers such as Drake and Ralegh.
Contact Me...
Search for treasure!
---
Sir William Petty, Time Traveller
KS1 & KS2 science, history, literacy, and more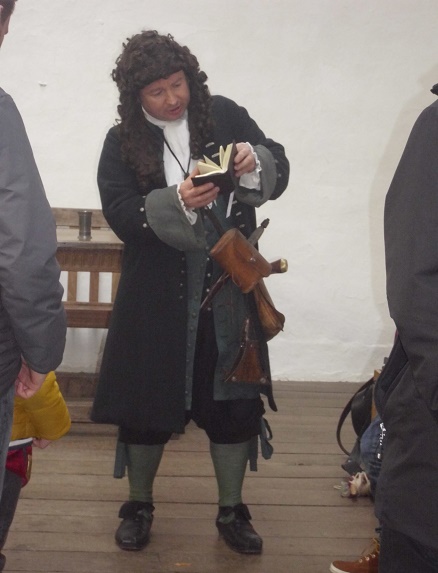 (Available by special arrangement as I need plenty of time to prepare.) How exciting would it be to have an eccentric, time-travelling gentleman from 1674 arrive at your school for the day, hoping to discover all he can about the modern age? What can your children learn about his time, and what can they tell him about their own world? What strange artifacts is he carrying? And why did he think he might need them? What stories can he tell them, and what marvels can the children describe to him? Is the modern world better than his own time?
Click here for more information on the Time Traveller
Sir William Petty is a natural philosopher and a member of the famous Royal Society. Having invented all sorts of curiosities, he has now embarked on the most ambitious (and secret) experimental adventure of his life – to travel forwards in time through hundreds of years. Fearing that England might have become a dangerous place, filled with war, disease, wild animals or bands of brigands, how happy will he be to find a civilised and learned world? And how lucky he will be to arrive at a school filled with scholars and experts happy to help him learn as much as he can?