This Tuesday I visited a school in Doncaster to work with two classes of Year 1 children. I had a lovely day, and so did they. As their teacher wrote to me afterwards:
"I just wanted to email you to say thank you so much for Tuesday. It was such a fantastically memorable day. The children rated it an overall 100/10!"
Sir William spent the whole day with all the children, telling them the story of the Great Fire in the morning. All the children joined in two big activities and Sir William showed them exactly where the events happened on his big map of London. He even showed them a leather bucket just like they have in London.
In the afternoon, the two classes worked on a map for a new, safer London, in which the houses were built in such a way that a third Great Fire (the first one was in 1212!) would be a lot less likely. 26 children each had their own part of London to plan, making a very large map (in exactly the shape of the hole left by the fire) when they joined them all together.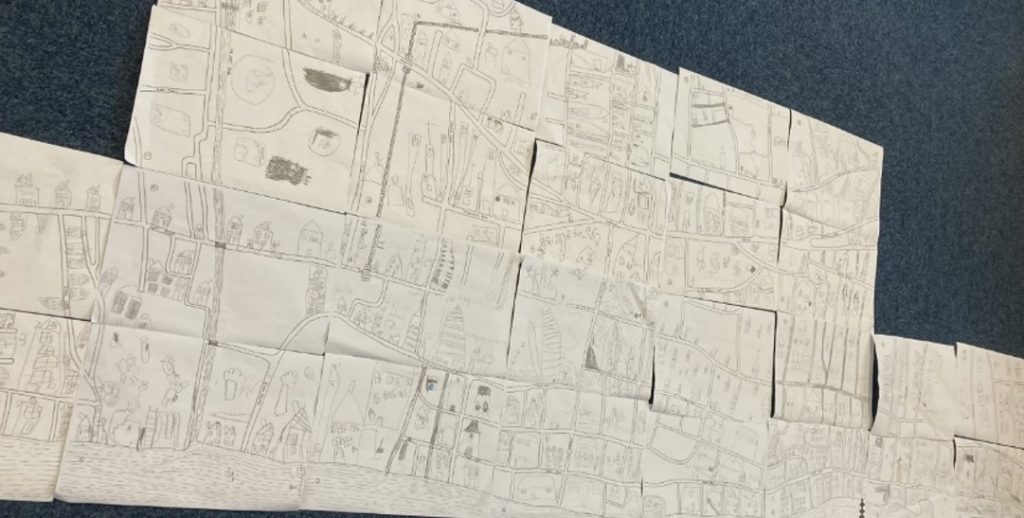 Here you can see the fancy fountains one child has drawn in the new parks, and the statues of the King and Queen another has drawn in theirs.
At the end of the day Sir William had to stand very still so that the children could sketch a likeness of him. I think they did a very good job.
If you might like to receive one of my visitors from the past, perhaps Sir William Petty (Great Fire of London or the Great Plague of 1665), or any of my characters – from Guy Fawkes to a Highwayman, from a pirate to a Civil War musketeer – then please have a look at the variety I can offer on my page of Characters.
I look forward to hearing from you.