I have just completed another sewing project for my characters – this time a sleeved waistcoat for my pirate Captain Burwash. As always I ensured it got done by setting a deadline – before my school visit tomorrow. Thus the task involved several 2 am bedtimes! I am happy with how it turned out.
I wanted a waistcoat just like that of an early 18th century sailor. I did some research and these were the sort of images I found.
This was years ago! Two years passed before I could find the cloth – woven-in blue and white stripes, 100% linen. Then many more months passed whilst I let other jobs get in the way.But last week I finally began (during a temporary lull in bookings.) And as of midnight yesterday …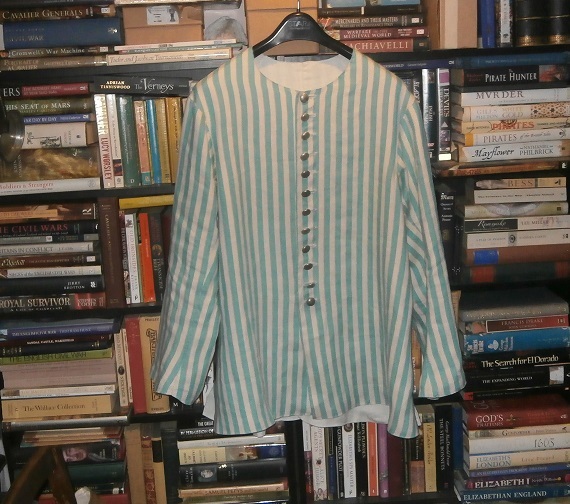 It does have the shape of the first picture, but it doesn't really hang on a hanger in such a way as to show it. I am very happy with it, and admit I will be a little bit excited to wear it tomorrow (as I usually am when I make something new).
I had fun converting my only 'pattern' for a coat – four constituent shapes taken from a late 17th century coat and from which I have converted every coat and waistcoat since. Cutting a pattern from striped fabric was new to me. It was easier in some ways, more difficult in others. I made it in one of the ways clothes were made back then: each piece was made separate (front and lining sewn together as one). 8 pieces in all, sewed inside out then turned right way out. Then I joined it all up by sewing the inside seams (the lining), then sewed the outside seams, then sewed the edges all around. All by hand, and all with real linen thread. If you're going to go to all this effort, might as well use all the right materials.
I then sewed the button holes by sewing 24 little lines in pairs, allowing me to cut between them and have a gap that would not fray while I sewed the button hole stitch. I am very proud of my button holes. Here is one …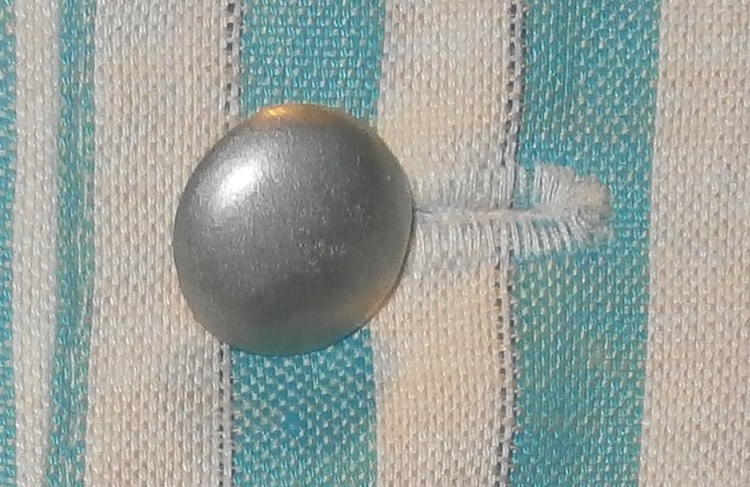 I am now itching to do some more sewing. Maybe some new shirts are in order?
If you want to know more about Captain Burwash, click here.