Sir John's Recruitment Goes Moderately Well
Once again this August Bank Holiday Colonel Sir John Mallory was back as Governor of Skipton Castle, defending it against the rebellious roundhead army of the Northern Association.
Having scoured the wapentakes of Claro, Newcrosse and Staincliffe three times for soldiers, once to form his own Trayned Bands regiment, then to supply soldiers for the Earl of Newcastle's army, and yet again upon the king's orders, Sir John was getting desperate for recruits. Most commanders stick to able bodied men aged between 16 and 60, but Sir John was forced this last weekend to cast his net a little wider.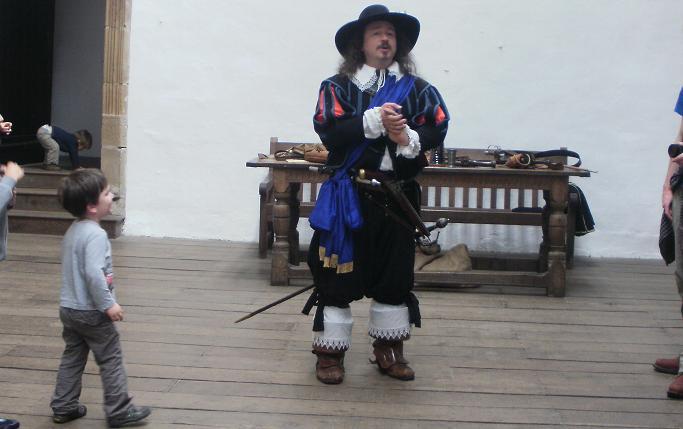 Thus it was that the training of the new recruits began in earnest. Here one rather tiny new recruit (I believe he said his name was Thomas and can only assume his second name is Thumb) watches as another musketeer-to-be learns her postures with a matchlock musket …
(Note: Worry not regarding the photographs of children here, both lads you can see are mine! I was very happy to have a surprise visit from them and their mum on the Sunday, and they seemed happy to see me!)
Click on this link to find out more about my Castle Governor character.