I was perusing the web for something the other day when suddenly I saw an image of myself visiting a school. A quick search found a number of other web pages about my visits. Not only did they bring back good memories, I thought I should put links to some of them here. And now I have!
Captain Burwash visits a Kirklees school in January this year … http://www.marsdeniandnschool.co.uk/kgfl/primary/marsdeninfpri/site/pages/ourclasses/classd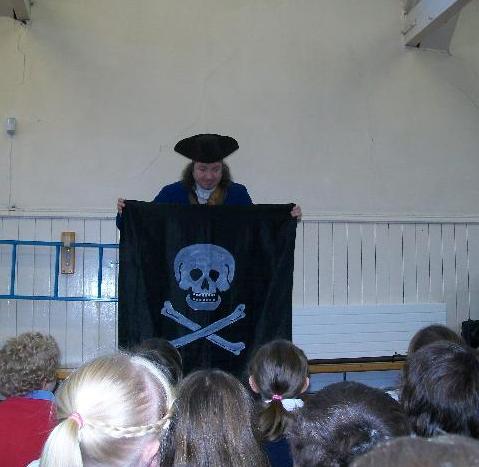 And here the captain visits a Sheffield school last November … http://www.carterknowle.sheffield.sch.uk/blog/?pid=43&nid=3&storyid=47
As well as a Doncaster school in the same month  … http://www.gliacademy.org.uk/news/pirate_day
Sir William Petty also visited a good number of schools last November, including one in North Yorkshire … http://www.stmaryscofe-beverley.org.uk/school-life/visitors-to-school/sir-william-petty-y2
And in the previous November the big wig from London posed for a picture with the children in an East Riding school, which was put into the local newssheet … http://www.driffieldtoday.co.uk/news/education/youngsters-take-a-step-back-in-time-1-3998228
I love this collage from a pirate visit to Helmsley I made a couple of years ago … http://www.helmsley.n-yorks.sch.uk/images/Captain%20Burwash.jpg
And another page from a visit to a Barnsley school in the same year … http://year2.worsbroughcblogs.net/2011/11/23/pirate-meets-landlubbers/
I shall have to keep my eye out in future to see if I appear anywhere else. Apparently Sir William Petty is to feature this very Friday in the Barnsley Chronicle. If he does, then I can't wait to show my two little boys the picture.
If you want to know more about Captain Burwash, click here. Or click on the following link to find out more about Sir William Petty and the Great Fire of London.