Although once again there is a lull in my bookings, what with the 2021 lockdown, some new developments are a-happening. I am excitedly awaiting a new hat for Sir William Petty, but I have already received his new wig.
I think Lynn Kelly of  In Vogue and Vintage has done a truly marvelous job making the modern version look just like the version shown in Sir William's 1680's portrait.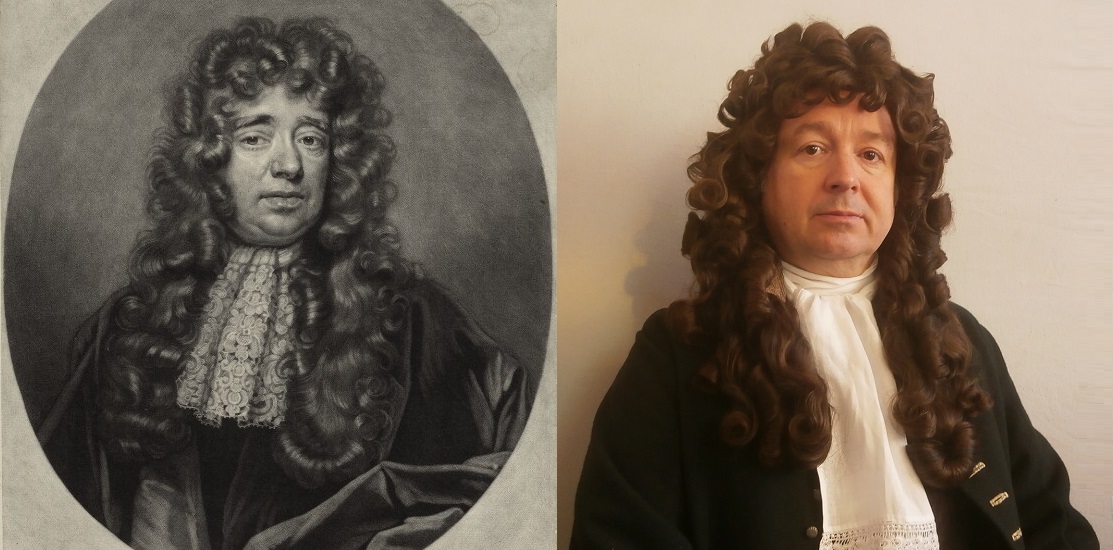 I am still, believe it or not, ten years off the age that Sir William was in this portrait (the painting was made 'Anno Etatis Suae 63'). By the time I match his age I think I might look even more like him!
Thank you Lynn for taking me another step forwards in my portrayal of Sir William. And thank you James for taking the photograph. The historical wig part of Lynn's website (Hairstory) can be found at http://www.invogueandvintage.co.uk/theatre/.
When your school is ready to start receiving visitors from the past once more, perhaps Sir William Petty (Great Fire of London and the Great Plague of 1665) or any of my characters, please have a look at the variety I can offer on my page of Characters.
I look forward to hearing from you, and to recommencing my school visits as soon as it is safe for all concerned.