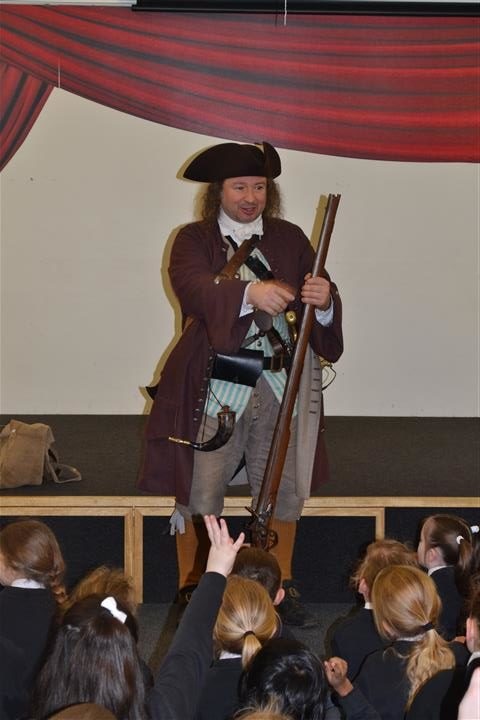 Captain Burwash at Chaucer Community Primary School
I have been so busy since last summer that I have been remiss in writing any news stories. For this one I thought I would post some very recent comments teachers have e-mailed to me. These cheer me up no end and always remind me that although I might have heard the stories my characters tell a 'few' times, they are exciting and new to the children.
Here are some comments about my Great Fire of London and Pirate days.
…………………………………………………………………………………………………………………….
Susan Wiblin, Our Lady and St Brendan's Catholic Primary School
Just wanted to say thank you from myself and Year 2 for yesterday. They had a fantastic day and I'm sure it will have huge impact on their work this week.
Jenny Marriot, Potters Green Primary School
… Thank you very much for the day, we really appreciate it … The children were engaged from the moment you arrived and were fully immersed in their learning all day. They were extremely excited to share their day with their parents too which is fantastic. Thank you, Jenny and all of Year 3
Sarah Allen and the children of Teak AK, Wombwell Park Street Primary School
… The children had a really good insight into what life might have been like at that time.
Jennifer Shufflebotham, New Ford Academy
Just wanted to say a huge thank you for coming in on Tuesday to support our topic on Pirates … The children and staff enjoyed it immensely.  We'll look forward to welcoming you again next time.
…………………………………………………………………………………………………………………….
Thank you to the teachers above for letting me use your comments.
Please click on Captain Burwash to find out more about my pirate character, and click on the Great Fire of London to find out more about Sir William Petty. And if you want any of my characters to visit your school, please get in touch.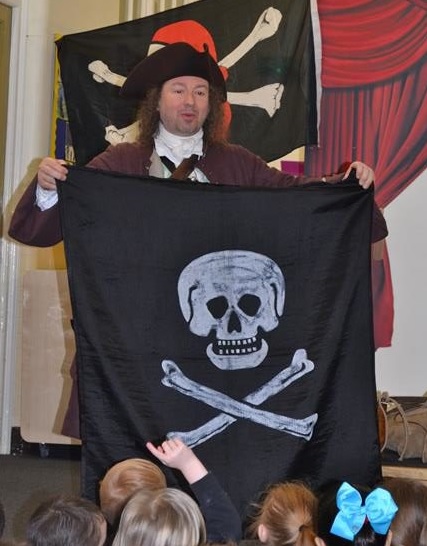 Captain Burwash complaining about how unscary his jolly roger is at Chaucer Community Primary School